This explains all settings in the IProperty Advanced Search settings tab.
Settings Overview
The Intellectual Property Settings dialogs are among the most important for controlling how your website looks and behaves. We will cover the various tabs of the Settings panel in order.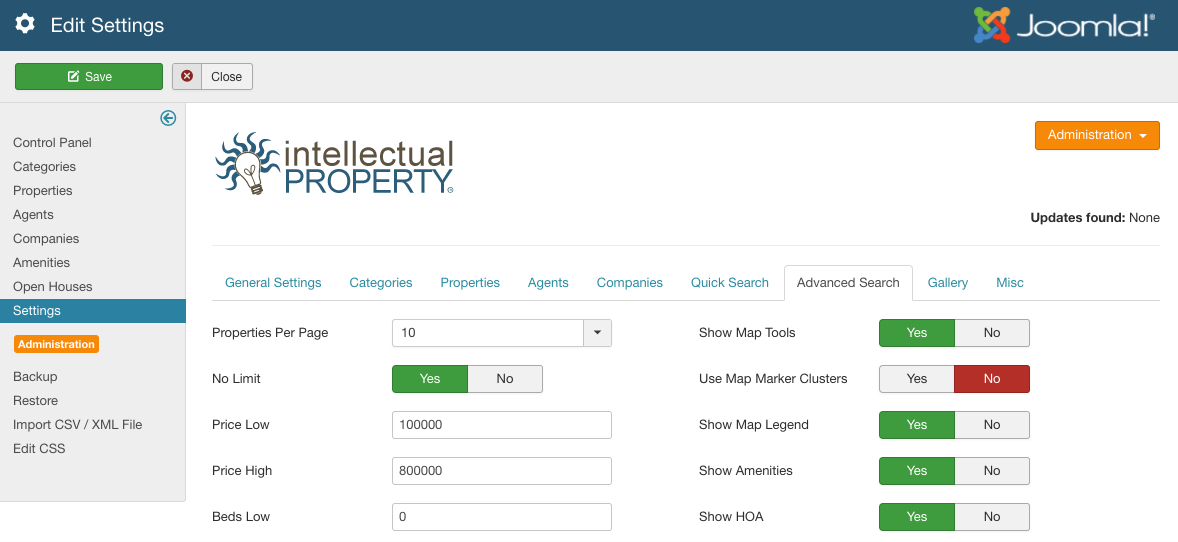 Advanced Search Settings
As the name would indicate, Advanced Search Settings (Figure A) are the basic parameters for the Intellectual Property advanced search filters. They are:
Properties Per Page: Number or listings to display in a search page
No Limit: Show 'No limit' rather than low/high price filters. This setting will disable the price criteria until the user moves the price filter and sets a valid low/high price
Price Low: Low price value (eg. 100,000)
Price High: High price value (eg. 5,000,000)
Beds Low: Low beds value 
Beds High: high beds value
Baths Low: Low baths value
Baths High: High baths value
Ft2 / M2 Low: Low area value
Ft2 / M2 High: High area value
Default map latitude: Set this value to the latitude of the "home" area the site will server
Default map longitude: Set this value to the longitude of the "home" area the site will server
Default map zoom level: Values can be between 0 - 19, with 19 being the most magnified, 0 being the least magnified.
Default map type: Select the default map type display. For descriptions and examples, see Google documentation for more information
Save Searches: Allow users to save searches to their favorites - this requires users to be able to register on your site. You must have the 'Allow Registration' setting enabled in your Joomla 'Users->Configuration' settings
Email Updates: Send updates via email when new results are found to saved searches.
Note:
Cron is REQUIRED for the 'Email Updates' option. Please see
'Cron Jobs'
for more information
Show Map Tools: Allow users to search by shape tools in the Advanced Search map.
Use Map Marker Clusters: Use map marker clusters
Show Map Legend: When this option is enabled, a legend showing the category icons will display
Show Amenities: Allow users to search by Amenity
Show HOA: Show/hide HOA option on advanced search
Show REO: Show/hide REO option on advanced search
Show Waterfront: Show/hide waterfront option on advanced search
Show Sale Type: Show/hide sale type drop down on advanced search
Show Country: Show/hide country drop down on advanced search
Show State: Show/hide state drop down on advanced search
Show Province: Show/hide province drop down on advanced search
Show County: Show/hide county drop down on advanced search
Show Region: Show/hide region drop down on advanced search
Show City: Show/hide city drop down on advanced search
Show Subdivision: Show/hide subdivistion drop down on advanced search